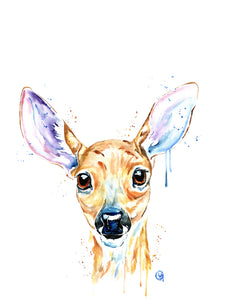 Original Watercolor Painting - 'Peekaboo Deer'
Regular price $202.00 Sale
This listing is for the ORIGINAL watercolour painting of a deer by Lisa Whitehouse. The painting was done on watercolour paper and will be shipped unframed. It measures 18" x 24"
This deer is a reproduction of my original watercolor painting. I wanted to capture the beauty of the deer I see almost daily in my home province of Manitoba. I love to watch them peacefully graze in the fields, or dash about in the trees. Deer are everywhere, where I live and can often be seen nibbling on peoples gardens. 

To purchase the print of this piece, please visit the link below:

PRINTS AVAILABLE HERE

****All artwork is copyrighted by Lisa Whitehouse. Copyright and reproduction rights remain that of the artist. Artwork cannot be reproduced in any way.