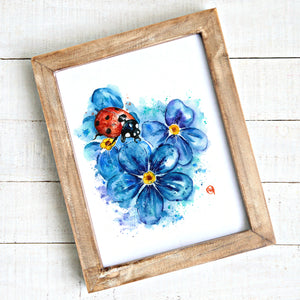 Original Ladybird Watercolor Painting - 'Forget Me Not'
Regular price $149.00 Sale
This listing is for the ORIGINAL watercolour painting of a ladybug by Lisa Whitehouse. The painting was done on watercolour paper and will be shipped unframed. It measures 11" x 14".  
When we lose someone we love, we often look to nature to show us signs that they are still with us. The ladybug is often seen as a subtle reminder that our loved ones are still with us. I wanted to show the adorable insect on the appropriately named "Forget Me Not".
The images do not do it justice. It is so much more intricate and vibrant in person! 

To purchase the print of this piece, please visit the link below:

PRINTS AVAILABLE HERE

****All artwork is copyrighted by Lisa Whitehouse. Copyright and reproduction rights remain that of the artist. Artwork cannot be reproduced in any way.